Sample parking
The Sample Parking Stage for flag style sample plates is commonly used in surface analysis instrumentation. With that in mind, it's been specifically designed to accommodate Omicron, Specs and Aarhus Flag style sample plates. Its intended use is the storage of multiple samples in the UHV analysis chamber or the sample preparation chamber. The Sample Parking Stage is comprised of a carousel plate or multiple carousels (each of which can accommodate 4 flag style sample plates).
Key Features
Available with 4, 8, 12, and 16 flag style sample parking positions 
Precise carousel rotation via a magnetically coupled drive to present each sample for transfer
Linear shift option to set height or move carousel out of the way entirely
UHV Compatible
Bakeable to 250ºC
Various automation/motorisation options are available for each axis of motion.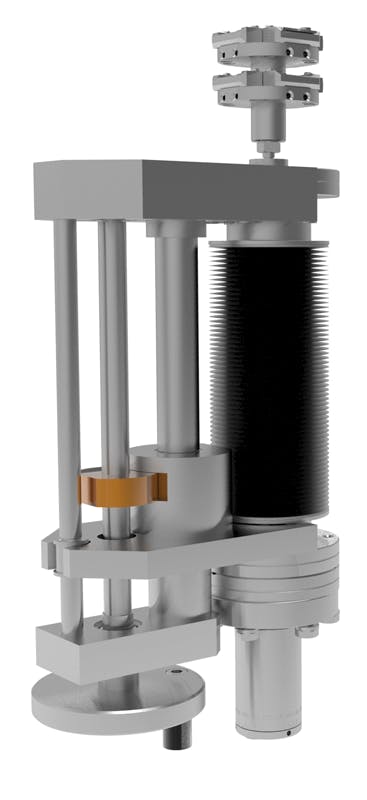 How it works 
Each of the sample plates is held securely to their docking station by a pair of springs. These ensure there's minimal risk of any falling out - irrespective of the mounting orientation of the Parking Stage
The carousels are mounted from a magnetically coupled rotary drive (MagiDrive). Each can be presented in turn to the transfer mechanism - whether that's a Wobble Stick, magnetically coupled transfer arm (PowerProbe) or linear rack and pinion transfer device
The whole device can also be suspended from a bellows coupled linear Z-shift (LSM) (typically 25-50mm stroke). This could be to set the height or, perhaps, move the carousel out of the way completely for access
Multiple carousels can be employed by stacking them vertically. This can provide additional storage (for up to 16 sample plates). In this instance, the linear motion option will almost certainly be necessary in order to access different levels
If you would like to discuss your project with our engineering team, please contact us.