EC-R series
Continuous substrate rotation, tilt, heating and electrical biasing
The EC-R supports the substrate at a right-angle to the plane of the mounting flange. It can then provide continuous substrate rotation, tilt, heating and electrical biasing. The EC-R can be mounted on UHVD's range of manipulators to provide motion in the X, Y and Z axes. The base EC-R configuration provides polar rotation to adjust the angle of incidence (with respect to the deposition flux and sample heating). The modular EC-R concept provides the flexibility to select options such as azimuthal rotation (to continuously rotate the substrate to maximise temperature) and deposition uniformity.
Key Specifications
2" to 6" substrate diameters
Substrate heating to 1200°C
Continuous azimuthal rotation
Polar rotation (tilt) up to +/- 180°
DC/RF substrate biasing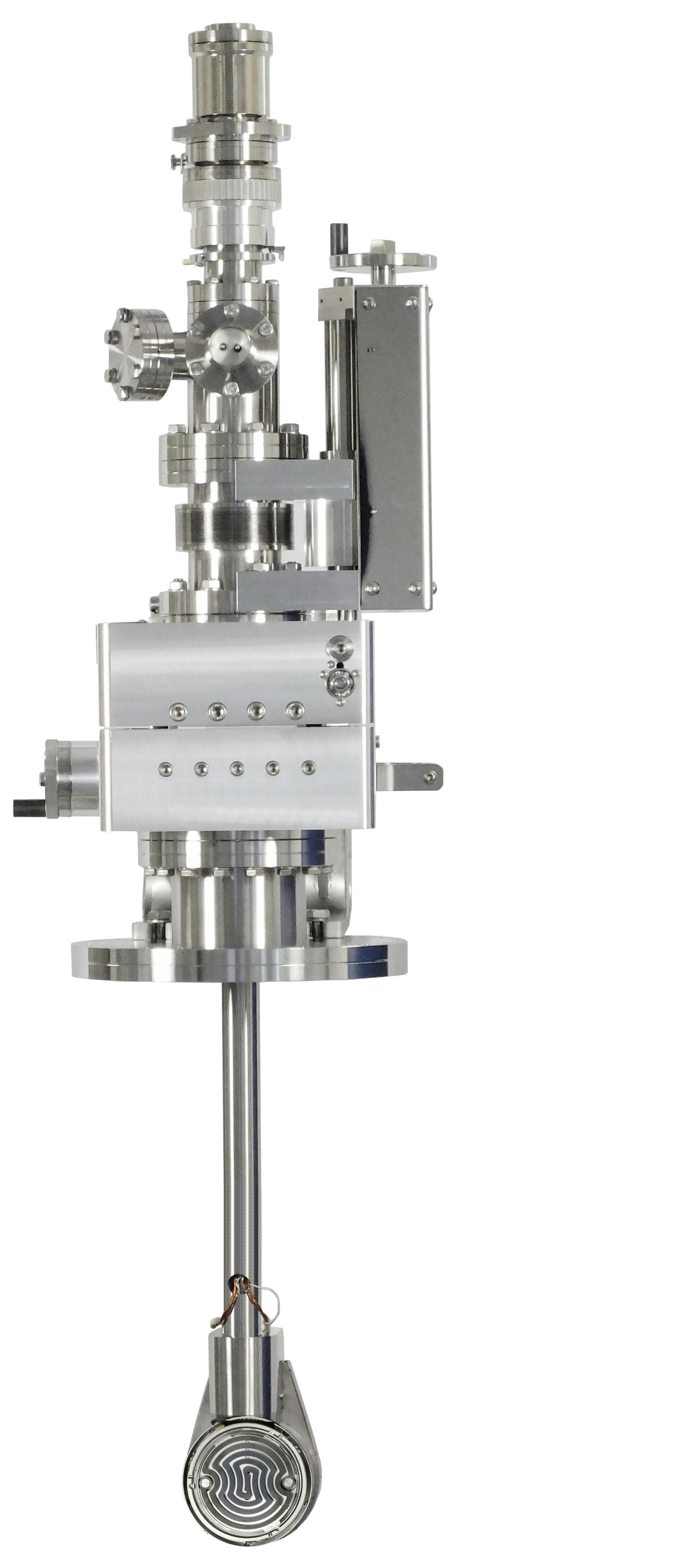 Product Downloads
Tailored for specific applications
Electrical biasing is also available (DC and/or RF). This can facilitate sputter cleaning prior to deposition or for better control of deposition kinetics. 'Faraday Dark Space Shielding' is supplied as standard on all biased stages. This confines plasma to the substrate cradle region. Our proprietary substrate biasing technology provides unrivalled flicker-free performance, typically with zero maintenance and long operational life. X, Y and Z motion can then be added to tailor the stage to meet your specific application.
Unrivalled performance and durability
This stage was born from a complete review of existing right-angled deposition stages. Rethinking the concept completely, the EC-R provides unrivalled performance and durability. By stacking two magnetically-coupled MagiDrive rotary feedthroughs, UHV Design is able to achieve a dual-axis, concentric rotation system. This eliminates the head positioning gear train typically used in other designs. 
Secure Sample Transfer
The absence of any bellows, O-rings or dynamic seals ensures clean, true UHV performance with high reliability. Magnetically coupled sample transfer arms with secure bayonet-style sample holders provide reliable and secure sample transfer. This makes EC-r the ideal choice for critical applications.
High-temperature heating
By incorporating our latest heater module technology into this stage, we've achieved radical improvements to conventional designs. This is in terms of the ultimate temperature capability and uniformity. Consequently, this positively affects deposition uniformity. There's significant technology within the rotary head to enable continuous azimuthal rotation with high precision positioning - all whilst heating from ambient to 1200oC. As standard, refractory metal deposition shielding is provided to protect the heating module. The EC-R can also be configured specifically as a retrofit instrument for MBE systems, e.g. VG Semicon V80H. 
Series options
1. Azimuthal rotation
Continuous azimuthal rotation to maximise temperature and deposition uniformity. Smooth, long-life rotation, typically up to 20rpm tolerant of high temperatures. 
2. Polar rotation
Provides the ability to tilt the sample with respect to a deposition flux. 
3. Thermocouple options
Type C and Type K options available with choice of UHV and HV fittings and height adjustment. HV versions include an o-ring sealed connector allowing thermocouple position to be adjusted to match the pyrometer reading of the substrate temperature, eliminating the need for calibration adjustments.
4. DC & RF bias
Our proprietary substrate biasing technology provides unrivalled flicker-free performance, typically with zero maintenance and long operational life. 
5. Z motion
Use of UHVD's linear shift mechanism to provide Z motion with strokes from 50 - 300mm and motorisation options. 
6.  XY motion
Precise X & Y motion up to +/- 19mm (+/-27mm vector) with motorisation options.
7. Solid Silicon Carbide heater element
Solid SiC heaters are manufactured from a conducting solid SiC material in the ß phase and are more robust in all respects. They are durable under mechanical or electrical shocking and when exposed to reactive gases including oxidising atmospheres at high temperature. They are also optimised to give the very best in temperature uniformity. 
Technical Specification
STANDARD CONFIGURATION
Substrate diameter
50mm (2")
100mm (4")
150mm (6")
CF150/8" OD system flange
Available
Not available
Not available
CF200/10" OD system flange
Available
Available
Not available
CF250/12" OD system flange
Available
Available
Available
Polar Rotation
Adjustable position
Manual (1° resolution)
HEATING
Heater element
Silicon Carbide coated graphite (SiCg) as standard (see options below)
Achievable temperature
1200°C (based on heating a Molybdenum sample)
STAGE MOTION OPTIONS
TILT Rotation
Stepper motorised
0.025° resolution
Azimuthal Rotation
Manually driven
Manual thimble
DC motorised
Up to 60rpm (maximum 20rpm recommended with bias)
Stepper motorised
Up to 60rpm (maximum 20rpm recommended with bias)
XYZ Motion Options
XL-T Range
XL-R Range
Z axis
Z stroke range offered
50-300mm
50-1000mm
Resolution manual
0.01mm
1mm
Resolution stepper motorised
0.001mm
0.001mm
XY axis
Manual actuation
+/- 15mm (+/-21mm vector)
+/- 19mm (+/-27mm vector)
X-Y resolution manual
0.001mm
0.01mm
Motorised actuation
+/- 14mm (+/-20mm vector)
+/- 18mm (+/-25.5mm vector)
X-Y Resolution stepper motorised
0.0025mm
0.005mm
AXIS ALIGNMENT
Adjustable position (manual)
+/-2°
N/A
ADDITIONAL OPTIONS
DC & RF bias
DC bias ≤ 1kV, RF ≤ 40W (including dark space shielding)
Heater element
Solid Silicon Carbide (sSiC)
Insertion length (nominally 240mm)
Customer specified
Motorisation
Stepper or Smart Motor (DC only for azimuthal)
X,Y and Z encoders
Option
Azimuthal home position sensor
Option
Temperature measurement
Type K or Type C thermocouple
Water cooling of head assembly (NOT substrate) to aid heat dissipation
Option
If you would like to discuss your project with our engineering team, please contact us.