Edge-welded bellows-sealed devices
Cost-effective bellows-sealed devices
Linear bellows drives (ALBDs) are a range of cost-effective UHV bellows-sealed devices. They are designed to provide smooth and precise linear motion solutions for low-load applications (with 0.01mm linear resolution). They're available on a 34mm (1.33") OD CF flange as standard or a 70mm (2.75") OD CF flange option (with a range of strokes up to 150mm). This device is ideal for everything from simple linear motion applications through to precise positioning, e.g. beamline diagnostics.  
Exceptional resolution and lifetime
Our linear bellows drives are perfect for applications where precise multi-positioning is required, They provide exceptional resolution (2 x times better than conventional units) and have a guaranteed minimum lifetime of 10,000 cycles. This is because the ALBD is manufactured and assembled to high tolerances using quality materials like 316L bellows throughout. Furthermore, this device can easily motorise in the field. A simple user-friendly retrospective motor upgrade is also available. This includes home and limit switches for positional accuracy - easily removable for bake-out.  
Key Features
High precision
Multi position
Linear-only motion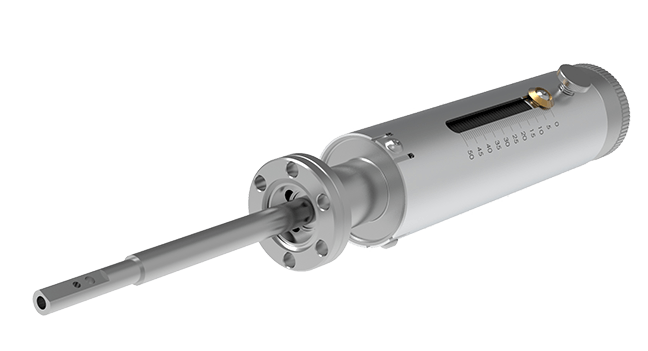 Edge-welded bellows-sealed devices product options
If you would like to discuss your project with our engineering team, please contact us.