Radial Telescopic Transfer Arms
For preparation and analysis, radial systems require the precise transfer of samples between multiple chambers. This is handled from the central radial distribution chamber and it also uses a high torque magnetically-coupled MagiDrive to provide stiff coupling for radial motion. The innovative Radial Telescopic Transfer Arm (RTTA) offers unrivalled performance over conventional designs at comparable costs. 
Key Features
2.5x the reach of conventional systems
Typically <1.5mm deflection at full extension with 10N load
Excellent substrate position reproducibility: <0.2mm laterally & axially
2-axis and 3-axis variants
True UHV performance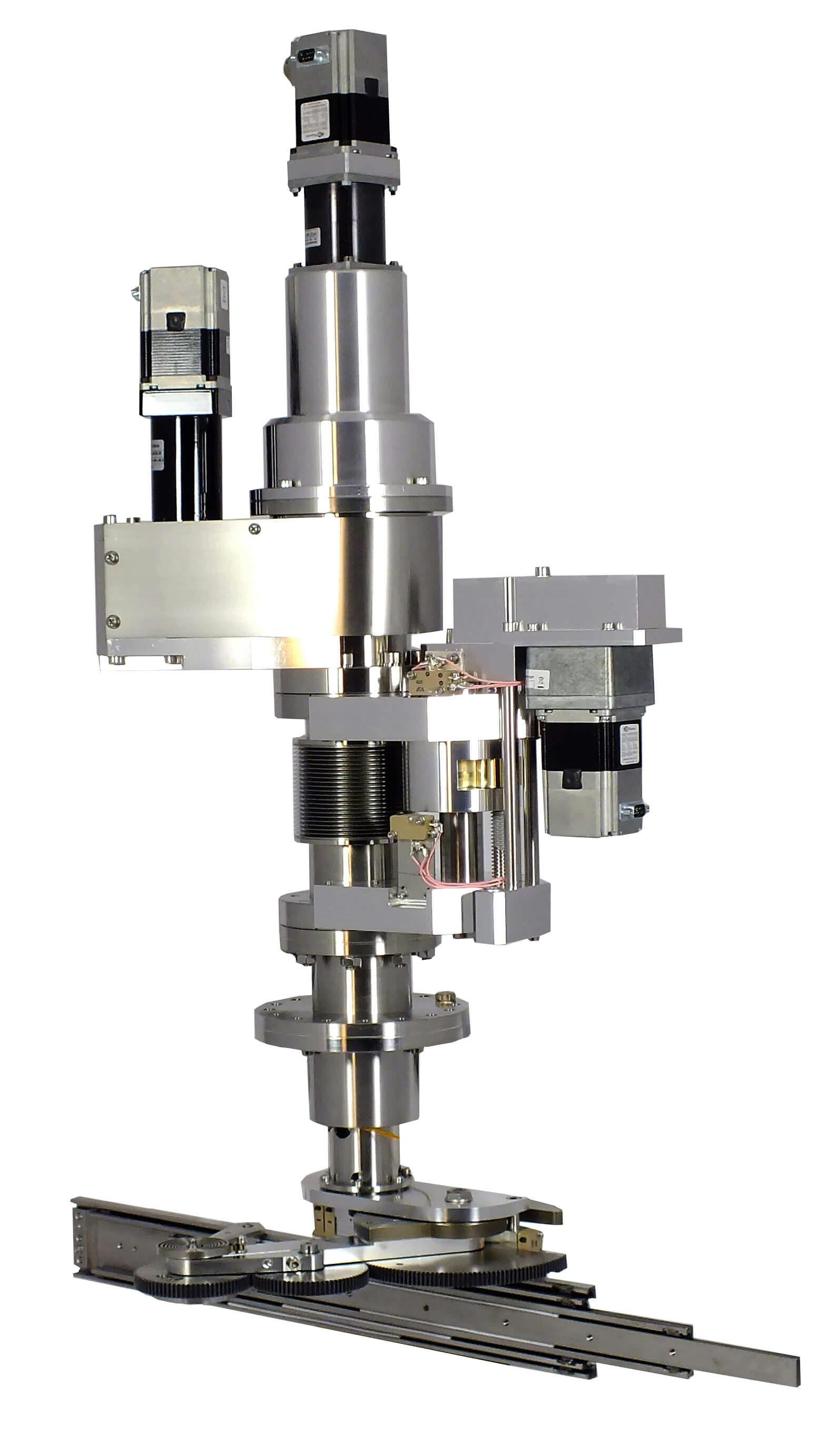 How it works
This radial motion is used to align the transfer arm with the desired chamber port achieving angular reproducibility of <0.2mm
A second MagiDrive is used to drive the innovative telescopic mechanism. This provides an arm extension of 760mm (2.5x that of conventional designs), transporting the sample in and out of the desired satellite chamber
The precision slide mechanism achieves linear reproducibility of <0.2mm with <1mm deflection at full extension with a 10N load. 
Available in two versions
The RTTA is available in 2-axis and 3-axis versions
The 2-axis RTTA provides rotation for port alignment and arm extension for sample transfer.
The 3-axis RTTA includes the ability to lift and lower the sample arm for gravity-based handoff. It's typically used on our MBE, sputtering and CVD sample manipulators and heating stages.
Further product information
User-friendly Manual Arm Alignment
The manual version of the RTTA comes complete with an innovative, user-friendly system - designed to align the arm with the desired ports. A number of adjustable position stops are also fitted to the top of the thimble ring. These engage with a pair of spring-loaded bearings that can be withdrawn while the drive is rotated into position. They can then be re-engaged to hold the drive firmly in position via using a simple lever. What's more, each stop can be individually aligned with a port axis to define default angular positions. These are highly reproducible.
True UHV Performance
True UHV rotation with no oil, slip rings, bellows or differential pumping. The Radial Telescopic Transfer Arm is actuated by the MD64LB and MD40 magnetically-coupled MagiDrive rotary feedthroughs. The larger MD64LB has a break-away torque of ~40Nm, providing an extremely stiff coupling. This makes it deal for rotating the arm assembly. The smaller MD40 actuates the mechanisms to drive the arm in and out.
Motorised 'Talk Free' Concept
Many radial distribution chambers system designs have an issue where the rotating arm motion causes the arm extension assembly to move (often described as the axis cross-talk). Consequently, this arm rotation causes the sample to be driven in and out - losing its position. Complex software programming is then required to unwind the secondary drive during arm rotation. At UHV Design, we've removed this issue via a unique mechanical design of tried-and-tested manipulators. These work by linking the rotary motion of the MD64 arm to the motor mounting of the smaller MD40. This mechanically unwinds the undesired motion - without the need for complex software.
Radial Telescopic Transfer Arms series and product options
If you would like to discuss your project with our engineering team, please contact us.