2-axis Rotary Telescopic Transfer Arm
360° rotation and 760mm linear extension
The 2-axis RTTA provides a cost-effective solution for radial distribution sample transfer applications It provides 360° arm rotation and 760mm linear arm extension. What's more, it carries out these functions with an ultra-compact footprint.
Key Specifications
760mm extension 
Typically <1mm deflection at full extension under 10N load
Rotational reproducibility <0.2mm
Linear reproducibility <0.2mm
Clean, UHV performance
Competitively priced compared to conventional designs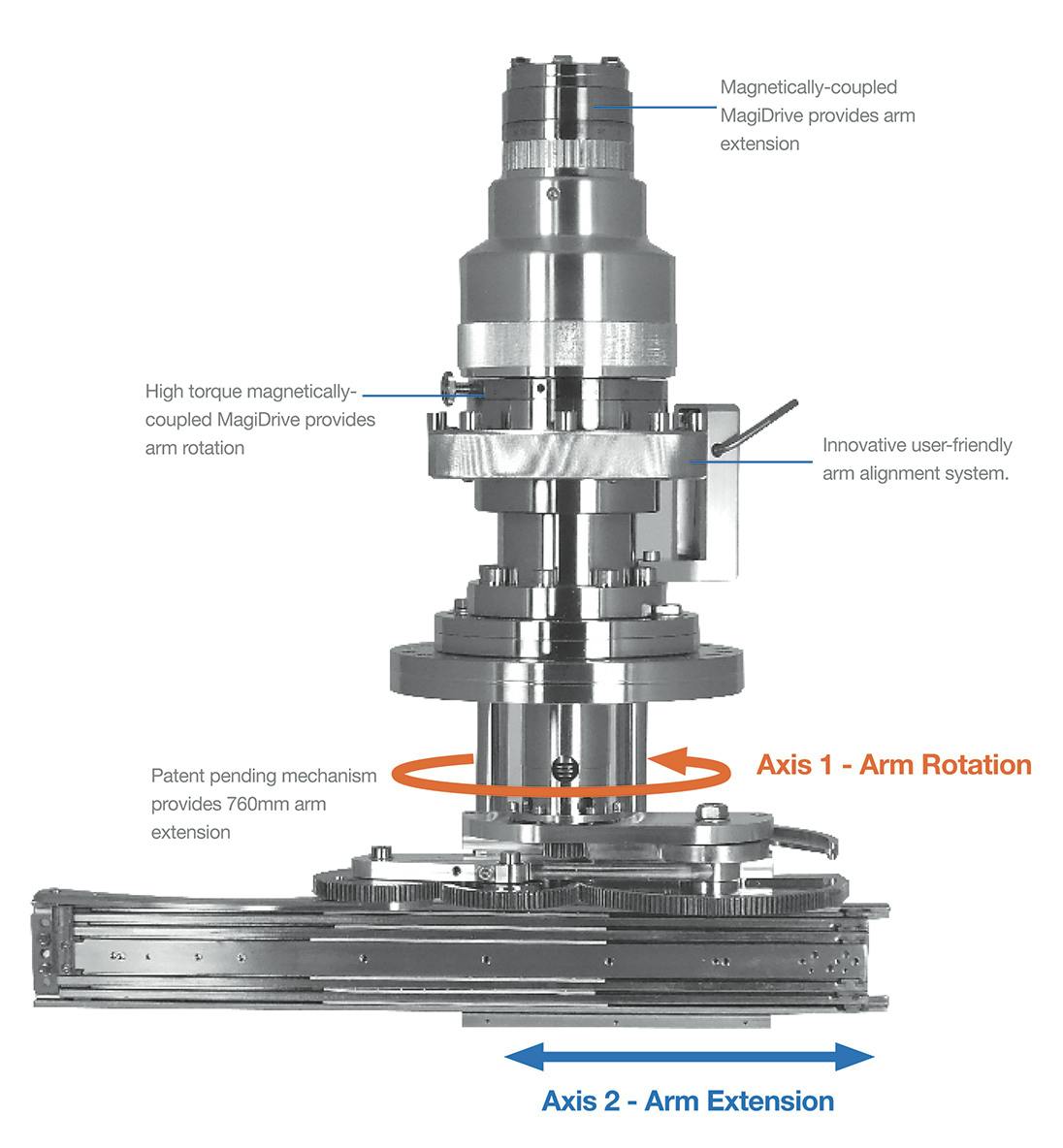 Product Downloads
How it works
A high torque magnetically-coupled MagiDrive precisely rotates the transfer arm to align with the desired chamber port
A second MagiDrive is used to drive the innovative telescopic mechanism. This provides an arm extension of 760mm to transport the sample in and out of the desired satellite chamber
The 2-axis RTTA can be motorised using stepper or SMART motors. Alternatively, the RTTA can be configured to accept any standard NEMA23 motor
Product configuration tool
Technical Specification
| | |
| --- | --- |
| MODEL | RTTA 2-Axis |
| Mounting Flange | CF100 152mm (6") OD CF |
| Min radial port flange size for arm | CF100 152mm (6") OD CF |
| Min radial port size and clear bore required for assembly installation and 150mm bore | CF150 203mm (8") OD CF |
| Rotation motion | Unlimited manual and +/-180° motorised |
| Minimum chamber ID | 630mm |
| Minimum chamber free height | 102mm |
| Arm extension | 760mm |
| Arm extension from port of 630mm ID chamber | 688mm* |
| Arm stiffness at full extension | Typically <1mm deflection for 10N load |
| Rotational reproducibility | 0.2mm at full extension |
| Bakeout temperature | 250°C (with motors removed) |
If you would like to discuss your project with our engineering team, please contact us.