Hollow rotary drive with integrated lift & lower
Compact hollow rotary drive
Magilift provides magnetically-coupled rotation and axial motion in a single, compact device. An example application would be the rotation of a substrate cradle with the lift and lower motion used to facilitate sample transfer. Its hollow drive technology allows services to be easily passed through to a substrate heating module.
Key Specifications
Rotation up to 60 rpm and 25mm axial motion in a single, compact device
27.8mm bore to allow services to be passed through
140N linear coupling and 9 Nm  rotary torque
Bakeable to 250°C without having to remove the outer magnets
Maximum axial load 20N (4.5 lbf ft)
Motorisation and pneumatic actuation options
Custom shafts available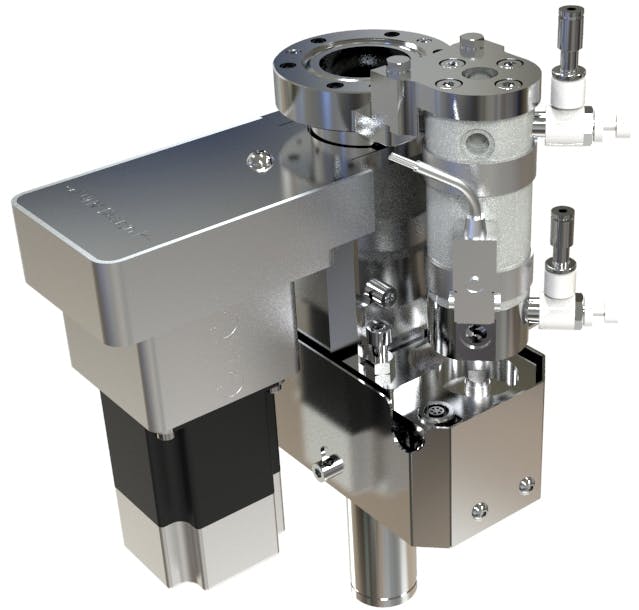 Product Downloads
The MLR35
The MLR35 is a magnetically-coupled combined hollow rotary and linear motion device. It enables a central hollow shaft to be rotated in UHV at up to 60 rpm and moved axially by up to 25mm. With that in mind, this manipulator is ideal for applications where a substrate may need to be rotated in front of a source or heater to achieve uniformity; whilst at the same time being able to move the substrate axially to facilitate sample handoff.
How it works
The MRL35 is magnetically-coupled, e.g. free from bellows, sliding seals, Ferro seals, etc. This ensures trouble-free operation and eliminates the risk of leaks in service. The very high torque and axial thrust provided by our highly optimised magnetic couplings ensure precision and surety of motion.
Product configuration tool
If you would like to discuss your project with our engineering team, please contact us.