Viewport shutters
Safely protecting system windows during processes
Our viewport shutters provide ideal protection during processes such as vacuum deposition. This is because they come with a 100% full closure option.
Utilising the magnetically coupled MagiDrive rotary feedthroughs for shutter actuation, the range can be actuated manually or pneumatically (where remote control is required).
Key Specifications
Available on CF38 to CF150 flanges
Manual or pneumatic actuation
Fully bakeable to 250°C
Friction control system
100% full closure option
Position switch option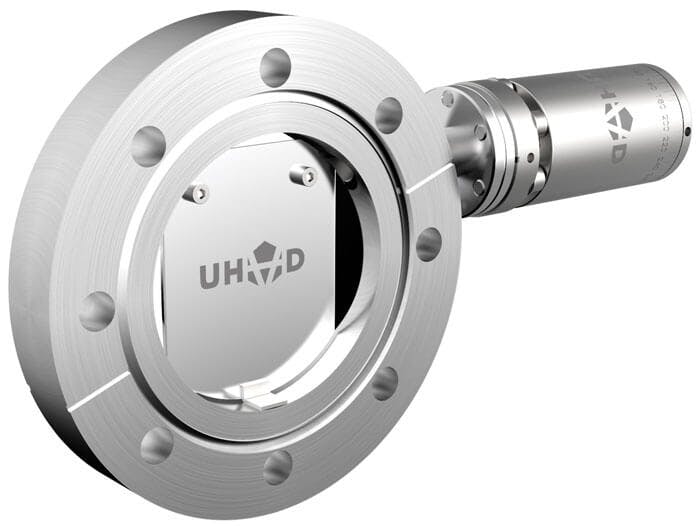 100% full closure actuator
The VPSFC range of viewport shutters provides 100% protection against the coating of viewports in HV and UHV deposition applications. The range is available in either AutoClose, Pneumatic or Pneumatic with position-feedback options.
Pneumatic actuation
Viewport shutters can also be fitted with a pneumatically actuated MagiDrive. Used in their simplest form, they could be operated remotely from a control panel or switch. For more sophisticated protection, the pneumatically-actuated MagiDrive could be interlocked to the 'vacuum process'. In this instance, for example, activating a deposition source would automatically close the viewport shutter. For critical applications, an optional 'feedback-switch' assembly can be fitted to the drive. This would confirm to the process controller that the shutter is in the closed position.
Product configuration tool
Technical Specification
VIEW PORT SHUTTER SPECIFICATION
VPS38
VPS64
VPS100
VPS150
System mounting flange size (with clear holes)
CF38 (2¾" OD CF)
CF64 (4½" OD CF)
CF100 (6" OD CF)
CF150 (8" OD CF)
Blade aperture coverage (Standard)
88.40%
90.60%
84.00%
87.00%
Blade aperture coverage (Full Closure option)
100%
100%
100%
100%
Bakeout temperature
250°C with pneumatic cylinder removed
Pneumatic option - cylinder sweep
set at 90 degrees (adjustable 30-170°)
Pneumatic option - cylinder switch
5-24V 2 wire reed switch
Pneumatic option - max rotation speed
0.5 seconds per 90o
0.5 seconds per 90o
1 second per 90o
1 second per 90o
If you would like to discuss your project with our engineering team, please contact us.