Configured XYZ
XY manipulator combined with Linear Shift Mechanism
Ultra-stable dual bellows stages provide smooth, precise motion along the X, Y and Z axes. They enable up to +/-57mm X & Y travel and up to 1000mm in Z travel. What's more, their robust construction provides a stable platform so that they can be mounted in any orientation.
Key Specifications
25mm - 1,000mm Z motion in combination with XY
Mounting in any orientation without additional supports
Smooth, precise kinematic motion
Robust construction for high loads
True UHV performance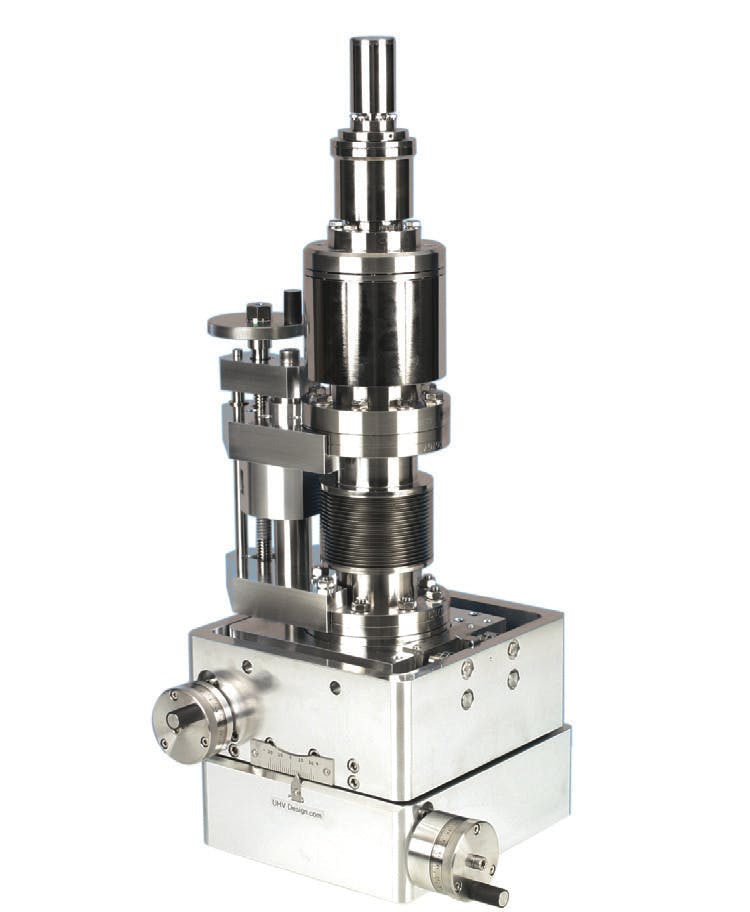 Product Downloads
How it works
This range is modular and utilises the MultiBase XY manipulators to provide two generic platforms. These offer +/-14mm, +/-31mm or +/- 57mm of motion (vector sum of X & Y). Various Linear Shift Mechanisms can then be fitted to these platforms to provide between 100mm (4") and 1000mm (39") Z stroke. This results in a smooth and reliable kinetic motion.
MultiStage manipulators are offered with manual or motorised actuation. Manual XY actuation is delivered via a combined micrometre handwheel and linear scale assembly. Manual Z motion can be fitted with a 1mm increment scale.
DC and stepper motor driven solutions are also available, along with 'plug and play' motion control systems.
Combining the MultiStage with UHV Design's MagiDrive rotary feedthroughs enables transmission of rotary motion through the centre. In addition, the hollow MagiDrive allows services like heating and cooling apparatus to be passed through the centre.
The hollow configuration enables stacking of MagiDrives to provide further independent axes of rotation. In this way, the three axes of motion already provided by the MultiStage can be supplemented with up to three more.
Custom shafts, service collars and dual-point support can also be provided.
If you would like to discuss your project with our engineering team, please contact us.