EC-I series
State-of-the-art performance for growth and deposition
The EC-I series provides state-of-the-art performance for various growth and deposition techniques, including MBE, sputtering and CVD. What's more, the EC-I offers continuous substrate rotation, high temperature and high uniformity heating. 
Key Specifications
Substrate heating to 1200°C
Continuous substrate rotation
Homing for automatic transfer alignment
Substrate lift/lower for transfer
DC/RF substrate biasing (100W & 300W options)
Adjustable deposition height
SEMI standard 2" to 200mm Ø samples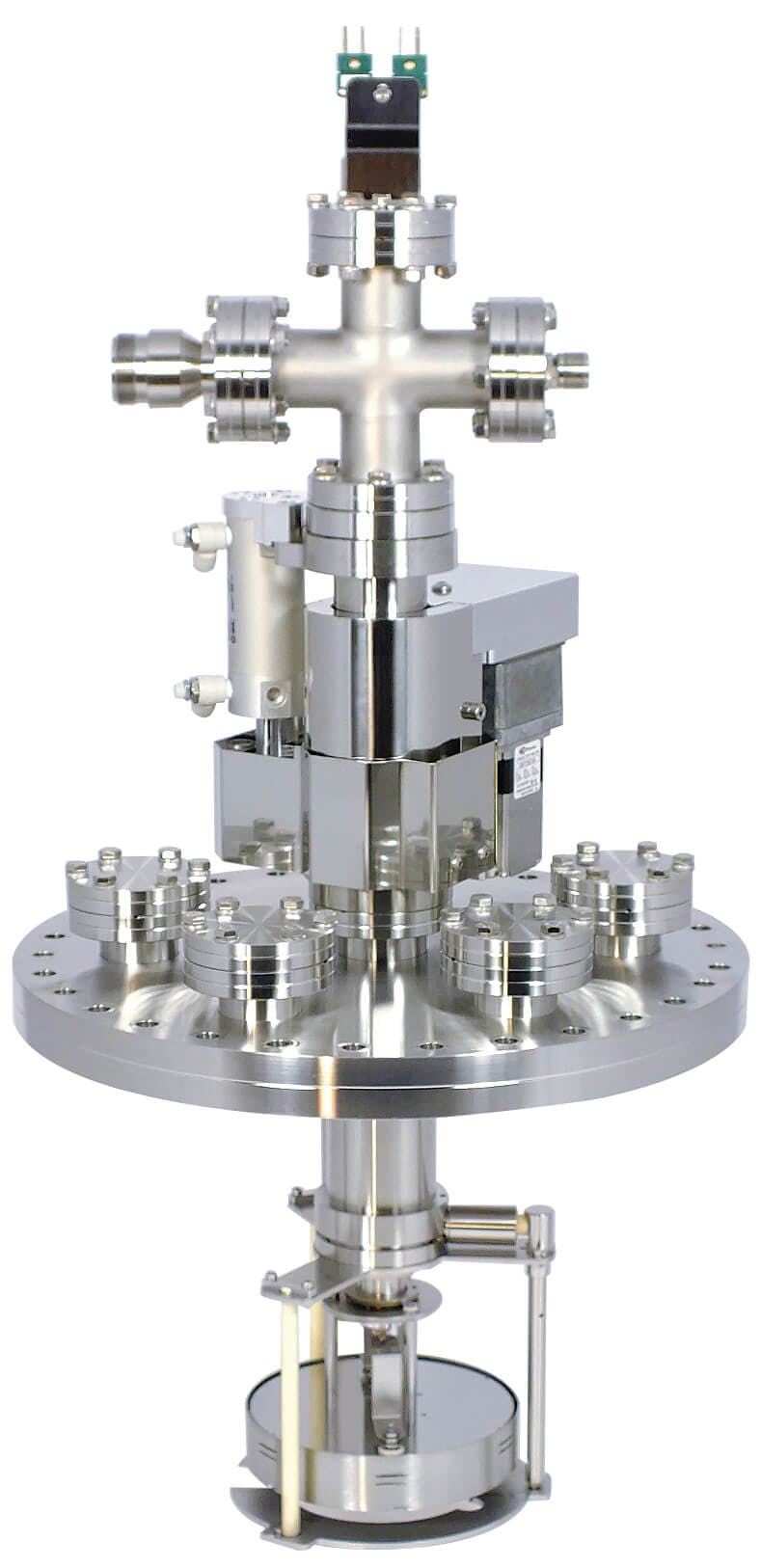 Product Downloads
DC/RF biasing and UHV compatibility
This series facilitates DC/RF biasing up to 300W and substrate transfer - all while maintaining true UHV compatibility.  It includes models to accommodate SEMI standard wafers from 2" to 200mm diameter. Special substrate cradles can also be provided to accommodate specific substrate shapes and designs up to 200mm in diameter.   
We also offer our new heat/cool stage, CEC-I. This offers continuous substrate rotation, high temperature and high uniformity heating. It can also statically cool a substrate via our novel sample holder design, providing uniform cooling.
Hollow magnetic coupling technology
The EC-I series benefits from UHV Design's unique hollow magnetic coupling technology and the CF38 mounted MagiLift drive. This single compact device provides magnetically-coupled substrate rotation and axial motion - designed to lift and lower substrates for transfer.
How it works
This technology allows the passage of services through the drive to a stationary wafer heating module. This is located in close proximity to the substrate, eliminating the need for vulnerable high current rotational connections. The MagiLift provides continuous rotation of the substrate cradle, which supports the substrate. Crucially, this ensures better temperature and layer uniformity. It also provides a pneumatically actuated 25mm lift and lower for substrate transfer. 
The stationary heater module employs multiple refractory metal Molybdenum heat shields to minimise heat loss (Inconel and other materials available upon request). It also has a choice of either SiCg (SiC coated Graphite) or sSiC (solid SiC) heater elements; both of which are capable of heating wafers to 1200°C and operating within O2 rich environments.
The electrically-isolated substrate cradle can be biased with either DC or RF. This can facilitate sputter cleaning prior to deposition or allow for better control of deposition kinetics. 'Faraday Dark Space Shielding' is supplied as standard on all biased stages. This confines plasma to the substrate cradle region. Our proprietary substrate biasing technology provides unrivalled flicker-free performance, typically with zero maintenance and long operational life. The deposition height adjustment facility allows the substrate's Z position to be adjusted, optimising the distance from the deposition flux. 
The stages can be mounted in any orientation, although they are most commonly mounted vertically with the wafer facing up or down and parallel to the mounting flange. Other orientations can be accommodated with special wafer holders. Options are also available to configure EpiCentres for higher pressure and corrosive environments. 
The series has a full suite of options including choice of system mounting flanges, manual or pneumatic substrate shutters and thermocouple materials.
Series options
Mounting Flange
Four standard CF type flanges are available. Each includes at least one port to fit a shutter assembly. 
Deposition Height Adjustment
The deposition height adjustment option allows the Z position of the substrate to be adjusted by up to 50mm to optimise the distance from deposition flux affecting deposition uniformity and deposition rate (see figure 1). Other height options available upon request.
DC & RF Bias
Our proprietary substrate biasing technology provides unrivalled flicker-free performance, typically with zero maintenance and long operational life. 
Solid Silicon Carbide Heater Element
Solid SiC heaters are manufactured from a conducting solid SiC material in the ß phase and are more robust in all respects. They are durable under mechanical or electrical shocking and when exposed to reactive gases including oxidising atmospheres at high temperature. They are also optimised to give the very best in temperature uniformity.
Thermocouple Options
Type C and Type K options available with a choice of UHV or HV fittings. HV versions include an o-ring sealed connector allowing thermocouple position to be adjusted to match the pyrometer reading of substrate temperature, removing the need for calibration adjustments. 
Deposition Shields
Deposition shields can be fitted to protect the heater module and services from the deposition flux. The deposition shields are easy to demount for cleaning and are typically stainless steel (refractory metal version available upon request).  
Substrate Shutter
Manual or pneumatically actuated substrate shutter to control line-of-sight between substrate and deposition source. Shutter blades are typically Molybdenum with other materials are available upon request. See Figure 2. 
Homing Sensor
An external magnetic proximity home switch is also provided for position sensing the internal shaft to align the stage to within 0.1° for automated substrate transfer.
Substrate cooling for 6" substrates
Our CECI deposition stage offers heating to 800°C and cooling to -100°C.
If you would like to discuss your project with our engineering team, please contact us.