Linear Shift with Integrated Tilt
UHV Design's LSMT Series
Based on the standard LSM series, the LSMT has the additional facility to tilt the moving flange by +/- 2° for final alignment. This acts as an integrated port aligner.
The LSMT is typically used on beamlines to align diagnostics or for ion/sputter source alignment. Adjustment is actuated via four threaded support shafts. And as standard, all flanges in the series are supplied with tapped bolt holes on the base flange.
The series can be actuated via a manual handwheel, pneumatic cylinder, DC motor or stepper motor. 
Key Specifications
Up to 150mm stroke
+/- 2° tilt for final alignment
Adjustment via 4 threaded 
Support shafts
Smooth kinematic motion
Bakeable to 250ºC
Demountable bellows assembly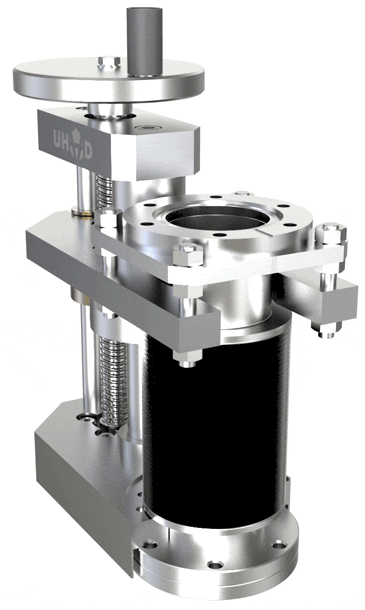 Product Downloads
Product configuration tool
If you would like to discuss your project with our engineering team, please contact us.