ALBD - linear bellows drive
Our ALBD series
Bellows-sealed and precisely lead-screw driven
The Linear Bellows Drives (ALBDs) are a range of ultra-high vacuum compatible, bellows-sealed devices. They're perfectly designed to provide smooth and reliable linear motion solutions for low load applications. The ALBDs are available in CF16 and CF35 flange sizes with stroke length options from 25mm to 150mm.
Key Specifications
316L high-quality bellows 
10,000 cycle guarantee
Simple to motorise retrospectively 
High-resolution performance: 10 micron manual, 1 micron motorised 
25N (5.6 lbf) axial thrust
Bakeable to 250°C with motor removed

Product Downloads
Simple linear motion - precise positioning
The CF16 flange versions of the ALBD have a wide range of uses. These are ideal for everything from simple linear motion applications right through to precise positioning, e.g. beamline diagnostics. CF35 flange versions are available at an additional cost.
High-quality materials for the highest tolerances
The ALBD is manufactured and assembled to high tolerances using only the highest-quality materials throughout. These include 316L bellows, which offer a guaranteed minimum lifetime of 10,000 cycles.
The driving mechanism, which incorporates a precision cut lead-screw supported internally via a ceramic linear bush for greater rigidity, can either be manually actuated via a micrometer scale or stepper motor driven. Crucially, both offer a factor twice the resolution of conventional units. 
Simple retrospective actuation upgrade
As actuation mechanisms are interchangeable, a user-friendly retrospective motor upgrade is possible at any time (see below). This upgrade includes pre-wired home and limit switches for positional accuracy that can easily be removed for bake-out.
Step 1: Thimble and brake screw removed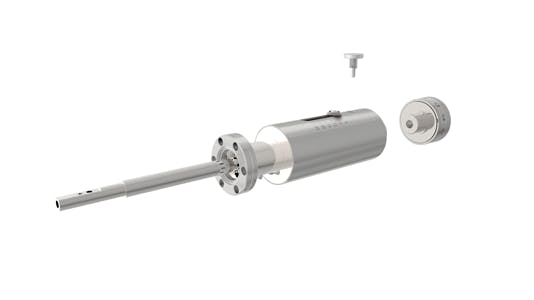 Step 2: Install simple two-piece motorisation kit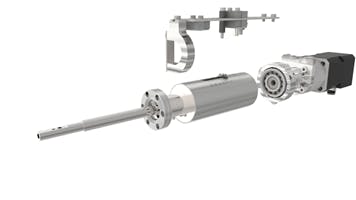 Step 3:  Motorised ALBD is ready to use.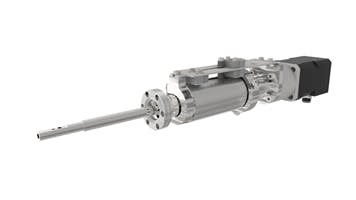 Note: a simple upgrade kit is also available for pneumatic actuation.
Product configuration tool
If you would like to discuss your project with our engineering team, please contact us.